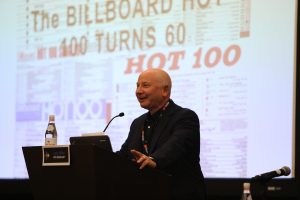 No industry has been more disrupted by technology than the music industry, yet music creates emotional connections that last a lifetime, in all economic cycles and technology transitions.
Musonomics founder and NYU Professor Larry Miller advises creators, owners and distributors of music, media and technology and the investors that are active in those sectors. We employ a fact-based, data-driven approach. We deliver measurable results that create value. We make promises and keep them.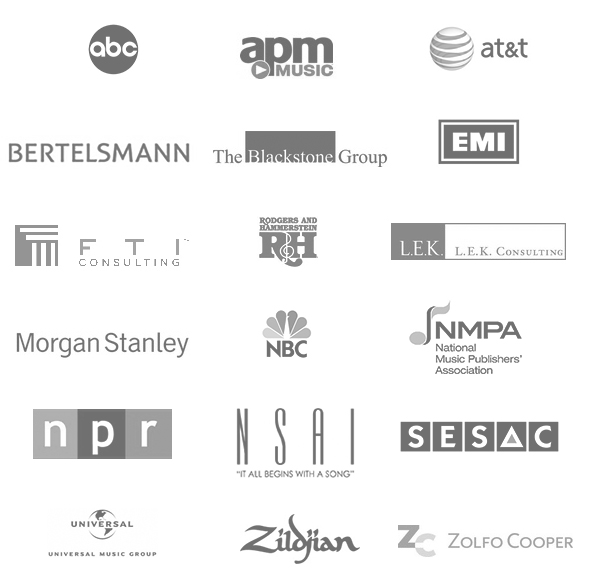 We have worked with global companies such as Sony, EMI, ABC, AT&T, Bertelsmann, NBC, NPR, Rodgers & Hammerstein and Zildjian; financial sponsors including Morgan Stanley, Blackstone Group, Terra Firma and Boston Ventures; and with LEK Consulting, Zolfo Cooper and FTI. We provide expert market entry advice to companies seeking to discover untapped markets and new revenue streams. We deliver commercial due diligence services that help financial buyers understand the risks and potential of strategic acquisitions. We help entrepreneurs and developers of media technology "get out of the building" and analyze markets, define their products and bring them to market.
The company was founded as Miller & Co in 2009 by Larry Miller, a former Vice President/Partner of LEK Consulting and a senior member of the firm's media and entertainment practice where he focused on M&A and business strategy in recorded music and music publishing, broadcasting and digital services. Prior to his return to consulting, Larry was founder and CEO of Or Music, a Grammy Award-winning independent recorded music label and music publisher where he signed and recorded multi-platinum artists Los Lonely Boys and Matisyahu before selling to Sony Music and EMI Music Publishing.
Larry joined the faculty of NYU Steinhardt in 2012 and was appointed Director of the undergraduate and graduate Music Business programs in 2015. He has commented on CBS, ABC, CNBC, CNN, Fox News, Good Morning America and NPR; in the New York Times, Wall Street Journal, Time, Business Week, Financial Times, Los Angeles Times and Billboard.
For wide-angle views of the changing music landscape and to find out how your team can benefit from the Musonomics experience, click here.

PAST SPEAKING ENGAGEMENTS EXAMPLES
April 26, 2023
The Music Industry's Ticketing Problem: Can It Fix Itself?
NeueHouse Hollywood
Los Angeles, CA
November 8, 2022
The Evolution of the Record Contract
Presented by The Recording Academy – Entertainment Law Initiative
and NYU Music Business
November 18, 2022
NYU Music Business Annual Alumni Event
for Alumni and Current Students
Special guest: Dan Runcie, Trapital
October 12, 2022
Mondo 2022
Brooklyn, NY

Music Valuation Fireside Chat with Economists and Valuators Nari Matsuura and Barry Massarsky, Moderated by Larry Miller
Presented by Citrin Cooperman
October 14, 2022
Mondo CLE Music Tech & Law Symposium 2022
Brooklyn, NY

Songwriters and Music Publishing Fireside Chat with Reservoir Media Management CEO Golnar
Khosrowshahi, Moderated by Larry Miller
Nov 20, 2020
Entertainment Law Institute 2020
"Indie and Major Labels in the Post-Streaming Era"
Jan 8-20, 2020
NYU London
Global Music Management
April 24, 2020
The New Role of Record Labels & Platforms
Antonin Scalia Law School, George Mason University, Center for the Protection of Intellectual Property, Arlington, Virginia
November 21, 2019
Entertainment Law Institute
Austin
November 15, 2019
New York State Bar Association
Entertainment, Arts and Sports Law Section
Music Business and Law Conference
New York Law School
June 4, 2019
Innovation at the Center of Music + Tech
NYU Kimmel Center
NY, NY
June 11, 2019
AIMP Indie Music Publishing Summit
NY, NY
April 5, 2019
WIPO
Geneva, Switzerland
April 11, 2019
McDuffie Center for Strings
Macon
NY:LON Connect
The Role of Music Accelerators
January 23, 2019
Reed Smith Office – London
Mondo.NYC
October 4, 2018
NYC
Music Industry Research Association 2018 Conference
June 25-26, 2018
Los Angeles
Conference on Innovation at the Center of Music + Nightlife
June 8, 2018
NYC
NYU Conference on the CRB – Impact and Implications for the Music Industry
May 23, 2018
New York
NYU
MusicBiz 2018
The Billboard Hot 100 Turns 60
May 15, 2018
Nashville
Country Radio Seminar 2018
Radio 2025: The Future is Now
February 7, 2018
Nashville
Music, Data and the Blockchain: A Digital Utopia?
March 15, 2017
NYU Shanghai
Musonomics: The State of the Industry
March 16, 2017
NYU Shanghai
Career Focus: Music Business in the 21st Century
March 17, 2017
NYU Shanghai
The Economics of Streaming
Music 4.5
March 29, 2017
NYC
Sound Development: NYC
Live Music: The Current Landscape (moderator)
June 1, 2017
NYC
Mondo.NYC
Can Washington Help the Music Industry move forward?
October 5, 2017
NYU