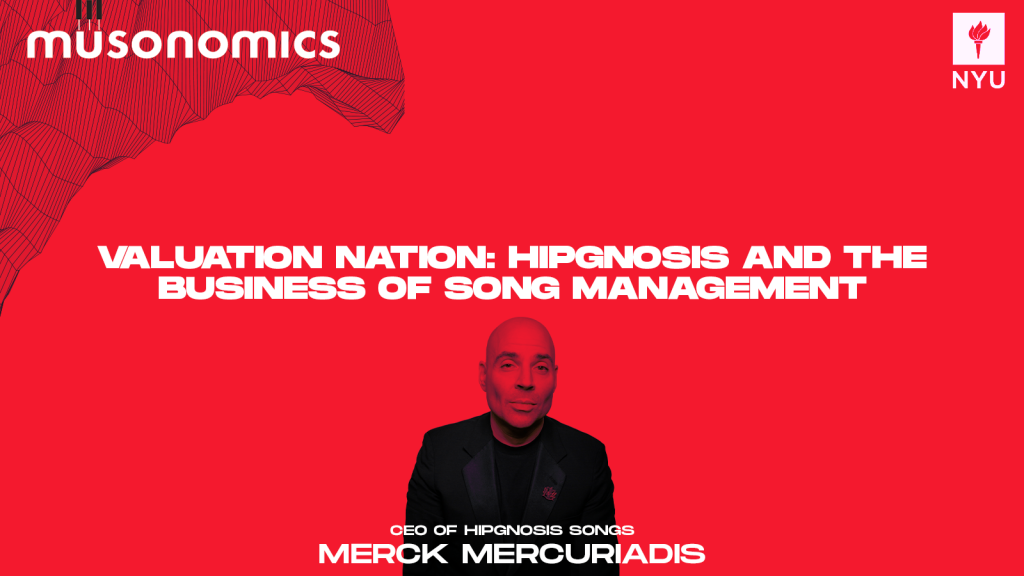 Larry Miller
Welcome to Musonomics. I'm Larry Miller from the music business program at NYU.
Merck Mercuriadis
I think that publishing as a concept is a broken concept. It's a broken model and I want to destroy it. 
LM
That's Merck Mercuriadis CEO of Hipgnosis song's fund a most active and disruptive music rights investor and song management platform. Our interview with Merck and our chat with writer, producers, legend tricky Stewart who sold his song catalog to Hipgnosis and more on this episode of Musonomics, maybe you've heard that legacy artists like Bob Dylan sold the rights to his 600-song music catalog to universal music publishing for over $300 million. Neil Young, Lindsey Buckingham and Stevie Nicks and Nile Rogers along with over 120 other songwriters and producers have all recently sold the rights to their songs at eye-popping prices to Hipgnosis songs fund. So, what's driving all this sale activity now? The multiples of revenue, the prices paid for song catalogs have doubled over the last few years. Buyers are reportedly willing to pay more than 20 times net revenue for important catalogs. A decade ago, a seller would be more likely to get a multiple of up to 10 times revenue instead for their songs, as it turns out those multiples closely tracked industry growth for the majority of the last 15 years. In a recent report by boutique investment bank shot tower capital, the higher the expectations for future growth, the higher the sale. Multiple. If we look back in time, we see that at the turn of the century disruption from declining sales due to peer to peer file sharing and the unbundling of the album followed by the great recession caused a long period of declining revenue multiples
Fast Forward to today and the adoption of music streaming and the high expectations for future growth equate to record high multiples, especially for music publishing catalogs, which deal with the rights to songs. The musical compositions used in making sound recordings. Streaming is the rising tide that's been lifting all boats and wall street expects revenue growth to continue in the music industry at a yearly rate of 7 – 8%, at least until 2030 interest rates are expected to remain low. And music has become an attractive asset class for investors who want growth that's not correlated to whether the stock market goes up or down. Individual investors can buy into the cash generated by individual writer catalogs on the royalty exchange, and investors looking for a pure play public music portfolio investment can buy stock and Warner music group or Spotify, or one of the public funds acquiring rights in songs like round Hill or Hipgnosis songs fund.
But what about the songwriters? Many older songwriters whose careers soundtrack to the sixties, seventies and eighties are now approaching their own seventies and eighties. Many of them are motivated by the need to do estate planning and by the high prices being offered to them by buyers. They may also be motivated by a possible change in the tax treatment of song sales, which are currently treated as capital gains and tax to 20%. If song sales are taxed as ordinary income successful songwriters could be taxed at twice that rate, and that might make anyone want to sell. Tricky Stewart is a five-time Grammy winning songwriter producer based in Atlanta and still in his forties. In 2018, tricky sold 121 of his songs to Hipgnosis, including the songwriting shares on a number of gigantic pop hits like Beyonce's Single ladies, Rihanna's Umbrella and Justin Bieber's Baby. All of which were co-written with The Dream In 2018 The Dream became the first artist to sell to Hipgnosis. But most artists coming up over the last couple of decades were told to hang on to their publishing rights. I sat down with Tricky and his business partner and brother Mark Stewart. I asked Mark what's changed.
Mark
You never saw writers, particularly if I can be candid, black writers or guys that have made their bones in black music get top value for their catalogs. In fact, there was a little bit of a shame that was attached to selling your catalog, because it meant that you were in financial trouble, you had tax problems or you were getting a divorce. So you didn't even really think about going to an open market and getting top dollar. You ended up dealing with just somebody who was willing to buy it. And they would give you a 25 cents on the dollar for your publishing essentially coming in and doing the deal with Merck.
LM
He means Hipgnosis CEO, Merck Mercuriadis, who we'll hear from in a few minutes
Mark
How that changed was that he valued the creators, creating it. He valued the artists that were recording it and gave it the value that it deserved in an open market. And I think that's what changed it forever. So now it's truly an equal playing field when you see those writers look to take their songs to the market
LM
At the same time, the way people discovered in listen to music changed. 
Mark
Yea I think obviously streaming had a lot to do with that. And I think at the time that you hear the horror stories of like guys not really getting all the money that they would get for streaming, but I think what investors recognized is that at some point there was room for that to grow that if you've got the rights now that eventually the monetization for those rights would increase it. Then if you had those copyrights and you can really benefit from it. So, I think it was a little bit of the unknown of what streaming was going to represent and where the growth was coming in the future. 
LM
Here's Tricky's perspective. 
Tricky
I believe that it's also has to do with the age of the copyright, where you are in life and where I was in life from a financial stability standpoint was more about after collecting the majority of the money of the hits that I created and somebody selling, whether catalog is still, you know, two or three or four years out that's different, but these songs, there was a great deal of money that had already been paid. A couple of times, you know. So, from that standpoint, have the multiple be what it was at top dollar and to ultimately be able to make the valuation, can I do more with this money in my own financial institutions, in my own investment portfolio, then I can actually do then than the copyright itself that I could pass down to my children could actually create.
LM
And how did Tricky decide to sell?
Tricky
I was really keen on building bigger relationships with banks. Publishers in a lot of ways are just banks. There's a lot from my operation with my brother and Judy. We did the heavy lifting of the career of the asset that we created. If you ever build an asset in business, one of the things that people talk about is the exit strategy. If you have a chance to build a really great business and then have an exit strategy, but at the same time still have the ability to create and do it again. That became a motivating factor.
LM
He had been in several music publishing deals earlier in his career. I asked Mark how they consolidated their older deals so they could sell to Hipgnosis.
Mark
I think that like tricky over the course of his career had a few different catalogs that he had with companies. Ralph Peer of peermusic was a great partner to us for many, many years and the publisher for most of the big heads. And then we went to Universal Music Publishing and it was, there were challenges and some unique challenges that I had to navigate with Merck in putting the deal together because you had two different companies with two different contracts and two different post-term collections and all sorts of different things. So it wasn't like in the case with a lot of probably catalogs where they go, Hey, it's one way in one way out, one contract that's governing. And that's it. We had to sort of get people who don't normally talk to each other to talk to each other and kind of work together. And somehow they worked it out. So, it created some challenges, but Merck and I were able to work through it. 
LM
What's different about Tricky's approach to music creation now?
Tricky
I think that the main thing that's happened since 2018, it's slightly different is that when I looked at the value that we got for that publishing and everything, it, a lot of it had to do with not only the songs themselves, but the artists that they were associated with. And when I really looked at, you know, if you're looking at those artists, particularly with Beyonce and Rihanna, Mariah Carey, Justin Bieber, those are ascending properties. But from the creative standpoint, when I got a chance to sit back and look at it, I went, you know what I accomplished, what I want to accomplish. I came, I saw and I conquered, and now it's time to re enter with starting those careers again. And I looked at what Dr. Dre in particular had been able to, to accomplish and also Sean Carter and his career. And they had something that was uncommon as being some of the first billionaires that I've ever done this. And they kind of took their gift and they put it in one place. And if you wanted that gift, it was always on Dr. Dre's label, where you had to get a Dr. Dre record. So it became important to me not to be a utility player of the industry and this next go round, but more so focused on the development of new talent and bringing new stars into the game and ultimately creating an environment where if you want these types of records, this type of sophistication and a sophisticated ratchetness in your music
LM
At the time of Tricky's sale to Hipgnosis, he said, there's a right way and a wrong way to do everything. What did he mean?
Tricky
This was a strategic move that Mark and Judy brought to me about an exit strategy and applying a different business term to the conversation of our intellectual property. And ultimately Mark was actually much more emotional probably, or had an emotional attachment to the songs because I wrote them, you know, so that doesn't change anything. Now, if somebody said, Hey, you got to sell your Grammys, you've got to sell your plaques. You've got to sell all the things, your memorabilia that comes from those memories. Then the answer to that will be ultimately be No. The fact that when I walk in the room, it like it doesn't, I wrote Single Ladies, you know what I mean? I wrote those songs. So it's not like it's not like Hipgnosis is going around and going, Hey, look, I've wrote these songs. You know what I mean? Like that's not, I didn't sell my rights to my stories. When I'm sitting at restaurants in Atlanta to tell people where they're like, who are you? I wrote Single Ladies. Well, I can still say that, but I was able to get an influx of cash from records that had paid me very well in a world that's very uncertain of what can happen with the influx of records that come out daily. I don't know that every copyright that you write will have the same value as it moves forward as it once did. But I had, I felt like I had a really good plan in place with Mark and Judy and with the Rashid Muhammad and my financial advisors to make this make long-term sense so that I didn't have to do a lot of looking in my rear view. After making this decision.
LM
There are now a couple of dozen active acquirers of music rights. I asked Mark at the end of the day, why sell to Merck,
Mark
I know his passion for music. I know that he spends his weekend and what he's looking to cause he'll text me, Hey, I'm listening to this today. You should put it up where you are and you know, we do. We still do that. And then I think when you see a lot of private money that is now coming to the market to buy this publishing. So now we're getting further and further removed from real music people. And I think speaking on behalf of, you know, tricky is my brother, obviously, but I have other brothers and cousins that are all creators. So I grew up a lot of the weight reason that I even got into the business was to protect the creator, the protect them, and protect their rights. So, selling to Merck, it was almost like you're giving something a real value to yourself, to somebody else who would value it in the way that you did. Even though you're literally transferring ownership, you're still giving it to someone who's going to love and care for it. And one of the things I would love if I could add this about Merck, and I don't know if he has this in every deal. So, I may not be, I may be letting something out of the bag, but he still consults with me on every sync approval. Like I would approve all the sync for my clients. Any opportunity that's still comes through, even though it's 100% his call, he still wants to make sure that myself on behalf of Tricky is cool and happy with the use. Tricky's song is never going to end up representing something that he doesn't stand for. And that's because of the type of relationship that Merck and I have. And he was respectful.
LM
I asked tricky what he'd say to a new writer about selling their catalog and to somebody who's more of a peer
Tricky
As a new writer, I would say, make sure that you're educated, that you are heavily advised. For me obviously I'm a veteran in the industry. So I had a bit of an advantage. I have a team of people that has never changed that trust implicitly. So that was an advantage that goes to my side, to be able to get a real evaluation of what I really wanted to do. It depends on if you have a plan, if you don't have a plan in place and you want to get money, just because you wanted to get money right now, then I would suggest that you hold that nest egg to yourself. Because in the truest form, when people say don't sell your publishing, you probably shouldn't. If you don't have a real plan for what you want to do with it. And that's what I would say to the new writers that I see that are doing deals. I hear people all the time, like now I want to sell my publisher. And I'm like, man, you're just getting started. You don't even, I was like those couple of songs. That's not a catalog, but so definitely be educated and definitely be well advised. To the older group of my peers. I would say much of the same, but for, for them, depending on what record they have to understand what records they wrote, what artists they are, they are attached to. And you can't be looking at anyone else's number. There's a lot of people who over evaluate what, where their catalog is because all hits are not created equal. And you have to understand that. So there are certain people that, you know, may sit someplace and get offended by what a number might come in for their publishing, but your properties have to be ascending. And when I say properties, I mean the people who are going to be delivering them, the artists themselves have a huge part to play in how your catalog is going to be valued.
LM
Mark says, there's great value in taking care of the details.
Mark
You're making records since 1990. So 31 years, you have to keep good records. You have to keep tracks of the contracts. So when you go to collect all your things, God willing, you have a 30 year career. You're looking back and going, man, you know, I've moved 20 times between, you know, when they started and this and that and things are digital now. So you just stay on top of your administration stuff. Don't assume even if you have a publishing deal, that copyrights are registered the right way, make sure that things are done the correct way because all these things will affect the value of your publishing when it's time to button up and sell things, people will take away value if they got an if there's some messiness, you know, make sure there's no claims, outstanding claims, things like that, make sure all that sort of things are there. 
LM
Songwriter selling their catalogs have been generally delighted by the prices paid for their song catalogs over the last several years, of course, prices have been lifted by the growth of, and recent optimism from wall street analysts on the long-term growth of music. Merck Mercuriadis Grew up in Nova Scotia and worked as an executive at Virgin records and later sanctuary group where he managed guns and roses and Elton John among others. Merck started Hipgnosis songs fund in 2017, took it public on the London stock exchange raised almost $2 billion and spent it on the rights to 60,000 songs. So far published reports, claim Hipgnosis is paying too much for song catalogs. And the company is responsible for at least some of the expansion and revenue multiples that have been paid.
MM
Well, I wouldn't say that we've driven the growth in the revenue multiples. What we've done is we've established songs as an asset class, right? So you and I have grown up in the music industry that has allowed Universal and Warner and Sony to dictate what the value of a songwriter's work is. And when they do that or when they used to do it, they weren't dictating what the value of the work was. They were dictating what they wanted it to be worth, as opposed to what it was really worth. What we did was I went to the public markets and I made a case with these great institutional investors that these proven songs had very predictable and reliable income. And that that income wasn't correlated to what was happening in the world. You know, I compare these, these, these songs to gold and oil because of the predictability and the reliability of them, which is the reason why we see those as safe investments. But I actually say that songs are better because the revenues aren't correlated. If Donald Trump were in power still in woke up and did something stupid, the price of gold and oil would be affected. Whereas people are always consuming songs if times are great, it's to a soundtrack of songs. And if equally, well, if times are challenged as they are right now, during the pandemic, people are taking escape and comfort in these great songs. And we were able to establish songs as an asset class. And what we did was we became very, very active, right? So we've invested $2 billion in that period of time, two and a half years on 130 of the greatest songwriters of all time. And we own everything from Journey's, Don't Stop Believing to Bon Jovi's Living on a Prayer to amazing songs that Nile Rodgers and Bernard Edwards wrote for Chic and Sister Sledge and Dave Stewart from Eurythmics and Lindsey Buckingham from Fleetwood Mac and Neil Young and all these wonderful people. And that of course then drives the market because people are looking at us and going, hold on a second, what do they know that we don't know? And that's really what we've done is we've established songs as an asset class, as a, and that's not this great for us, but it's great for every song writer that has their own rights, where suddenly their songs are worth more than they were before. And they're seen as a financial instrument rather than seen as some inanimate object.
LM
5-10 Years ago, there were a handful of buyers of song catalogs. What's Merck's competitive advantage?
MM
If you go back five years or 10 years, you've really only got one guy that was buying these catalogs. And that was Lawrence Mestel from Primary Wave. At that point in time, he was taking the genuine risk because you couldn't look someone in the eye and say the best years of, of the music industry are in front of it. As opposed to, you know, now we can look at your students for example, and say to them, please, you should absolutely be in the music industry because the next 40 years are going to be amazing. And you know, you can have an incredible life and doing incredible work. You couldn't have said that to somebody five years ago. My competitive advantage is simply that I'm really the only person that's doing this that has a pedigree of having made their success and their reputation with artists and songwriters and producers, as opposed to at the expense of artists and songwriters and producers and the artists, you know, in my life as a manager, and I've been very privileged to be around managing everyone from Elton John to Guns n Roses and Iron Maiden, Morrissey and overseeing Beyoncé's management were there when her father Matthew Knowles was with me, I've been around the greatest artists in the world. They know that I understand the ethos on which they've built their careers. They know that I'm going to make decisions going forward that are commensurate with the decisions that they would have made, they know that. Of course, I'm going to try to enhance the earnings and the legacy, but never at the expense of not protecting the legacy equally. Well, they know that these are very emotional, that I understand that these are very emotional transactions, where on the one hand they've given, they, they see themselves as having given birth to these metaphorical children in the form of songs. And, you know, they now are, are looking at it – Who are the surrogate parents going to be? So that's one side of it. The other side of it is that I formed the fund with a motive. And the motive was really simple, which is that this is a really good investment case and shareholders can make money and we can establish songs as an asset class, but we have an ulterior motive. And the ulterior motive is to use the leverage of our financial wherewithal and our great songs to change where the songwriter sits in the economic equation. We're the only company where what's in the best interest of the songwriters is actually also in the best interest of our shareholders as well. If we can get the songwriters paid more money than the shareholders we'll make more money too. And that pedigree combined with the ulterior motive has made us the preferred buyer of the songwriting community because no one has ever stood up to Universal and Warner and Sony before and called them out as to why the songwriter is the low man or woman on the, in the economic equation. We've been very clear as to why we think that's the case and we're a catalyst for changing it. And it's something that the songwriting community appreciated
LM
Hipgnosis is both a copyright acquisition platform and a song management platform. What's a song management platform?
MM
I think that publishing as a concept is a broken concept and it's a broken model and I want to destroy it, right. There are the typical publishing company of today is, you know, whether that's Universal, Warner or Sony or someone smaller is a company that has a catalog, but really its focus is on creating new songs. So Universal, Warner, Sony, they'll go out and assign 10 songwriters the work. And they're very, very good at it. The work very hard to put those songwriters in the right rooms, connect them with other artists and other producers and hope that those things turn in those sessions turned into placements on records. And those placements on records turned into hits and that one of them will become wildly successful enough to pay for the nine that failed. And that business is underwritten by the passive income of these great catalogs, you know, the songs that are in their catalogs, passive because these companies have 20,000 songs per person, and they don't have the ability to actively manage their catalogs to the degrees that they should. Now I of course, I'm all for creating new songs. And we have our company in the US Hipgnosis group that focuses on creating new songs, but that's about 5% of our business. And it has nothing to do with the management, the song management of this incredible catalog that we are. I think that you should be putting the songs should be managed with the same degree of responsibility that I manage artists. I know that if I let Nile Rodgers down, I'm not just letting Nile down in his music down, but I'm letting his wife down. I'm letting his family down. I'm letting his foundation down. I'm letting his band members down. You know, there's a, there's a trickle effect, right? And if you are a younger person, there's probably children and parents and everything else. And I can't sing a song. I can't write a song. All I bring to the table gives me the seat with these amazing people is that I take responsibility very seriously. And I won't let people down. I think the same should be afforded to these great songs where, you know, when you are Don't Stop Believing. Well, that's one great song in the journey catalog, but there are tens of others, whether it's open arms, whether it's faithfully, whether it's any way you want it, but these other songs are allowed to languish because if you were to call one of the big companies up and you said, I want a Journey song, they'll say, Oh, Don't Stop Believing. Well, no, that's the easy one to go to. There's all these other amazing, you know, we bought Dave Stewart's half of the original catalog, 32 bouquet hit singles. And only four of them show up in the data because these other 28 of the 32 have been allowed to languish in these big systems. So song management is about having the bandwidth to be able to put these songs in movies and TV commercials and video games, but equally well, make sure that the wrong/right playlists, make sure that new song writers are interpolated them, that new artists are covering them. And that these songs are constantly being nurtured and brought back to life. And you know, when you think about it, it's not difficult because these songs are already a part of the fabric of our society. All you have to do is, as I say is, you know, give them some love and nurture them, water them, bring them back to life and people suddenly go, Oh God, I forgot. I love that song.
LM
How important is culture and connecting with writers and acquiring and managing their catalogs?
MM
It's everything. Because, you know, ultimately when you look at the artistic community, the songwriting community, which I'm privileged to have a seat in, despite the fact that I'm not a songwriter, I'm there because I've done a good job of protecting people over the years in protecting their work over the years and maximizing commerce while ensuring that the art was not compromised in this way possible. But if you look at someone like Neil young, for example, the value of Neil's songs is that he's a wonderful songwriter and an incredible artist, but equally well that's only one or two parts of it. The other part of it, which is, is perhaps inherent, but not necessarily obvious is that part of what makes these songs so valuable is the way that Neil has conducted himself over the years. Right? So if you took a song like Ohio, which is anti-authoritarian, anti-violence anti-war, you suddenly used it in a film that had gratuitous violence, or that somehow went away the against those principles, you would look at Neil in a way that was sort of cross-eyed and go, hold on, what's going on here? So, so that culture of ensuring that the songwriter is well rewarded for their songs, but that equally well, that they're a part of what happens.
LM
About three quarters of the revenue in songwriting and music publishing is regulated in different territories around the world. America has his own approach for changing the leverage that songwriters and their publishers and song managers have in improving these regulated sources of revenue.
MM
So how do you expect the regulatory authorities to truly represent in a fair manner, what a songwriter should be getting paid? If the three rabbits voices in the songwriting business are made silent by the recorded music companies that own them in control, right? So the advocacy is not there because it's not in the best interest of Universal, Warner and Sony in the UK is as a, as a microcosm. There are currently what are known as the DMCS that are taking place in parliament, the department of music, culture, and sciences. They created these hearings six months ago, quote unquote, to investigate the business practices of screaming services. We went to parliament with our submission and we said, look with the greatest respect in the world. We think that first of all, what you're doing is wonderful, but we think once you really get into it, what you're going to discover is that the streaming services, aren't the issues here. You're going to come to the same conclusion that we've come to, which is that the real reason why the songwriter is not being paid properly is because the three biggest song companies in world, publishing companies in the world are owned and controlled by the biggest recorded music companies in the world on the recorded music side of the business, they're getting four-fifths of the revenue. They're getting 80% gross margins, 40% net margins. And in general, they own those recorded music. Masters in perpetuity. Very few artists actually own their own masters. On the publishing side of the business. You've got a fifth of the revenue. You've got a fifth of the margin. And quite rightly, whether it's through renegotiations or reversions or good management and bordering in the first place, the songs end up back in the hands of the people that co-created them. So, it's not in Universal, Warner and Sonya's interest to share that money fairly inequitably. They want to take as much of it and push it to record the music as they can, where the lion's share is there. Because if you take a dollar's worth of income, currently 30 cents out of every dollar, and I'm using broad strokes here, but 30 cents out of every dollar goes to Spotify or Apple. Now you can make an argument that that 30 cents should be 27 cents or 25 cents. And that argument I'm sure will be made as those companies grow bigger. And as the streaming subscription, constituency grows bigger, but it's not the material point. The material point is where's the other 70 sentences going. And currently that other 70 cents, 58 and a half cents is going to the recorded music company. They're insisting with the vast majority of their artists, that it's a sale, not a license. If it was a license, they'd be having to give 50% of that money to the artists, but they're insisting it's a sale. So they out of that 58 and a half cents, maybe 9 cents goes to the artists. So they're clearing about 50 cents out of every dollar. And then you've got 11 and a half cents left that has to be split amongst the four or five songwriters on the song and their publishing company. So that massive disparity only exists in the end result, whether it's, you know, six months from now or whether it's two years from now, I'm convinced that songwriters will be voted a greater share of the income. Equally well, you've got great work being done by the copyright board in the United States. They passed into law three years ago that the songwriter will receive a 44% greater share of the income. It's been appealed by some of the DSPs because of the pressure that there is in terms of the tension in the deal-making with the major record companies. They've been made the villain. And to some degree they are the villain because they've, they've appealed the ruling. But now as we go into the fourth copyright board set of sessions would start it earlier this month. I think the general wisdom in our business is that at worst case that 44% increase that takes place incrementally between 2018 and the end of 2022, that that will be upheld. And who knows, maybe we might get lucky to even get an increase on that.
LM
Merck has had a spectacular run the last couple of years, what's the next two years going to look like
MM
Very similar to these last two years as well, where the focus remains buying. I think at the end of this two years, we're probably around a $4-5 billion company. We're currently a 2 billion and change company and we'll own about 120,000 songs by the end of this period. And then I think at that point, we will be the ideal size because part of the thesis here, and part of what I'm trying to create is the ultimate song management company. And I think that when you own 120,000 songs, we have a very, very small catalog currently at 60,000 songs within that. But it's a very small catalog with probably the highest degree of success within it, of any catalog in the business. So there are 4,000 number one songs, there are 12,000 top 10 songs. And two criteria that we have is that the songs have to have been extraordinarily successful and they have to be of cultural importance. Those two things have to go hand in hand. I think when we get to the end of this next two years, we'll have doubled in size and we'll have 200 people working those songs. And I think that that's the ceiling. I think that you can't, you know, if you go, you know, think about what my goals are here to create the ultimate song management company. You can't do that if you own a million songs or even 500,000 songs, because I think having 200 people, great people working your songs is a challenge in itself. You've got to be able to manage those people and motivate those people and make sure that they care about music as much as you do, and that they care about Neil young or you know, Rodney Jerkins or Mark Ronson, or Dave Stewart, as much as you do. And that they're going to put their life's blood into making more of those songs. So I think at that moment, we are the perfect size company. And what I hope will happen is that there will be 10 other song management companies that people abandon the concept of publishing and they focus on song management. And, you know, because, you know, ultimately if I've done my, my work, well, five years down the road to 10 years down the road, the artist is going to have, and the songwriter is going to have their manager. They're going to have their booking agent. They're going to have their record company. They're going to have their publicist. They may have an administrator, but they're absolutely going to have a song manager because why would you, you know, if you're going to create incredible work that goes out and becomes a part of the fabric of society, why would you then allow that to languish? And lady is why wouldn't you continue to put energy into these incredible things and songs that are the energy that makes the world go round. And I think that if you're a young man or young woman today, and you know, you've got children and as those children are growing older, they now want them to know, but the Beatles you're gonna want you to know about the Rolling Stones. You're gonna want them to know about Nirvana. You're gonna want them to know about Neil Young and about Fleetwood Mac as long as you put the music in front of people, the music is powerful enough, and it has enough integrity in its own, right? When it can stand up on its own two feet, but you've got to be able to
LM
Music publishing is a complicated business. It's difficult to do well, will Hipgnosis be able to execute its plan and grow its platform and double the size of songs under management in the next couple of years? We'll be watching the Musonomics podcast produced by Musonomics, LLC, strategy consulting and analytics for, and about the music industry. With many thanks to our guests, Merck Mercuriadis, Tricky Stewart and Mark Stewart technical production. This episode from Nakul Sharma and editorial production by Jorri Roberts and Clayton Durant and additional assistance from Ankit Chugh & Nishit Singh from the NYU Steinhardt Music business graduate program, and Laurie Jakobsen of Jay Bird communications. From the Music Business Program at NYU Steinhardt. I'm Larry Miller. Stay safe & be well.