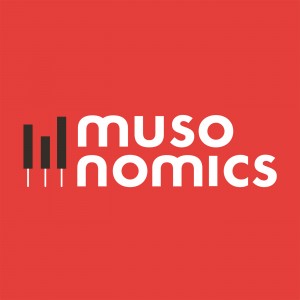 Musonomics Podcast Set to Launch Today
Larry Miller to Host New Podcast from NYU Steinhardt
First Episode to Focus on
Record Store Day, the Vinyl Resurgence and the State of Music Retail
April 16, 2015 — Musonomics, a new twice-monthly podcast about the business of the music and culture industries, will debut today on iTunes. Hosted by NYU professor and music industry veteran Larry Miller and produced with support from the NYU Steinhardt Music Business Program, the new podcast will use data, music and interviews with newsmakers and analysts to provide insight into what's happening now — and what's coming next.
Miller said, "Music is everywhere and in every form of media that touches us, and the growth of digital music services have created an ocean of information about music and music consumption. As an industry, we're drowning in it. The Musonomics podcast will be fun and informative — and aspires to separate signal from noise in the music and culture industries. Plus, it's a blast to produce!"
The first episode tackles the state of physical retail in the music industry. We'll take a close look at the vinyl resurgence and music's newest quasi-holiday, Record Store Day, which falls this year on Saturday, April 18. You'll hear from James Donio, President of the Music Business Association, about how the vinyl resurgence came about. Michael Kurtz, the founder of Record Store Day, will talk with us about how Record Store Day got started, how it affects the vinyl pressing industry, and how Record Store Day became an international phenomenon. Finally, you'll hear from entertainment industry analyst Russ Crupnick of MusicWatch about the future of vinyl, its role in the music ecosystem and the willingness of consumers to pay for music.
Download the first episode from iTunes.
Planned future episodes will cover digital music services, the touring and festival business, the connected car, music analytics services, music licensing and copyright.
You can find the Musonomics podcast on iTunes, Soundcloud and on musonomics.com.
About our host:
A graduate of Brandeis University and Columbia Business School, Miller (photo here) got his start in the radio industry, serving as the first Production Manager for Z-100 in New York, which became one of the most successful radio startups ever when it reached #1 in the country's most competitive market within 72 days of signing on. He then moved up the ranks at NBC Radio Entertainment in various senior advertising sales and affiliate relations positions before moving to Tribune Broadcasting in 1990 as Creative Director. In 1995, he joined AT&T Labs Research, and while there co-founded a2b music, one of the first digital download service providers, and served as its Chief Operating Officer. In 1999, Miller spearheaded the spinout of a2b music to Reciprocal, which he then joined as President. In 2001, Miller engineered Reciprocal's sale to Microsoft.
In 2002, Miller co-founded record label and music publisher, Or Music, and led the company as its CEO. During his time there, the company signed and developed a strong slate of multi-platinum selling, Grammy Award-winning artists that included Los Lonely Boys and Matisyahu. In 2006, he sold the company to Sony and became Media & Entertainment Partner at LEK Consulting, a $250 million data-driven global strategy consulting firm. There, he established the firm's New York-based practice and provided growth strategy and M&A/transaction advice to clients in the media, entertainment, and technology industries.
In 2012, Miller was named Executive Vice President and General Manager for MediaNet while also Adjunct Professor and Entrepreneur-in-Residence at the NYU-Steinhardt Department of Music and Performing Arts. He joined NYU as a Clinical Associate Professor in September 2013.
Media Contact:
Larry Miller, Musonomics and NYU Steinhardt, larry.s.miller@nyu.edu, +1 917 270 4422
https://twitter.com/musonomics
https://www.facebook.com/musonomics